Sports Injury
New Realm Acupuncture Center have helped to return me to my active lifestyle. I hurt myself on a resistance machine at a local women's health club a year ago. I could not sit, stand, lie down, bend over, run or walk without pain. I went to my family doctor and he prescribed medicine that made me feel like a zombie and still didn't give me relief. Over the next year I tried several doctors, a massage therapist, 3 different physical therapists and a manipulative therapist. No one was able to give me relief from the pain.
My third physical therapist was the most helpful. I was getting very discouraged and depressed because I was having trouble progressing to even the most basic strengthening exercises. I asked my therapist about acupuncture and she said it was worth trying. She said the clinic had several clients who reported success with New Realm Acupuncture Center. I called New Realm Acupuncture Center the next day and began acupuncture and acupressure treatment a few days later.
New Realm Acupuncture examined me and said they thought they could help. I noticed slight improvement after the first treatment and after 8 treatments I am nearly back to normal. The acupuncture relieved my pain so I could move forward with my physical therapy and build strength in my muscles. Now I can do anything without pain.
Thanks to New Realm I am able to resume my active lifestyle where I left off a year ago!
Sports Injury
Acupuncture was a treatment that I heard about many times. But when I got treatment my hamstring that I strained healed much faster than if would have not got treated.
I would hope more people come HERE at New Realm To Get Acupuncture. Because it helped me and many others just like me.
Thanks a million New Realm Acupuncture
(Todd is a 100 meter and 200 meter's runner of OSU track team.
He can run 20.8 seconds for 200 meter. Only after TWO visits, Todd feels 100% better for his hamstring strain.)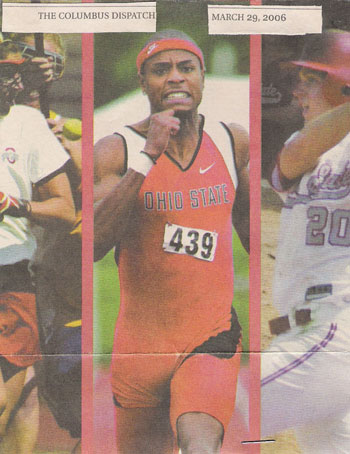 Sports Injury
I am a dedicated long distance runner, I ran cross country and track in college, and continue to run daily now, despite my busy graduate school schedule. In the past two years I've developed some chronic hamstring pain. When it got to the point where I felt like there was a mass of scar tissue sitting on the back of my right leg, slowing me down, I decided I'd give acupuncture a try. After my first treatment, I felt like that scar tissue had deflated! While I was still a little sore, my legs felt about 60% better! The staff was always very considerate, constantly checking to make sure I was comfortable. I'm looking forward to the rest of my treatment plan and getting back to running with no pain.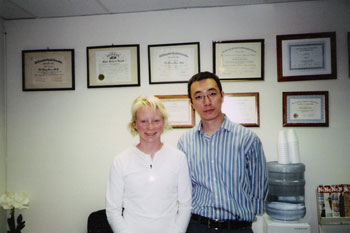 Sports Injury
For almost eleven months, I had been having chronic pain in my Achilles tendons in my ankles. I play tennis quite often, on the varsity tennis team in high school and recreationally. The pain kept getting worse, especially during tennis season when I was playing two and three hour matches every day. I tried going to the conventional doctor, and they gave me stretches and told me to use Advil, but instead of getting better, my ankles got worse. My mom suggested that I try acupuncture, so I did. Just after a few short weeks (only 8 visits !!!), my ankles are so much better and I can go back to playing tennis again.
Thank you so much!