General Health
The Best Thing that ever happened to me
Acupuncture
I am 57 years old with a history of physical injuries and poor health. Sinus infections have been a significant problem for the past 40 years. Despite frequent applications of irrigation, medication, and rest, I became bedridden ill four times a year.
New Realm Acupuncture Center came to my rescue on December 18, 2004. With the first treatment my sinuses cleared completely. I have not had a medication for a sinus infection through my customary worst season. Breathing improved as air passages cleared up. Sleeping was much better and now I have more energy. I have not had a day off due to illness since treatment started (I did play hooky once).
The care that I received at New Realm Acupuncture Center is proactive as well as remedial. I am able to do more things and I am even kind to my wife. I went shopping with her and had a good time. I am able to exercise five times per week and not die.
New Realm Acupuncture Center is the best thing that ever happened to me.
Dennis Huelsman (Psychologist)
General Health
By Olin Williams (Massage Therapist)
My name is Olin Williams. I have been a massage therapist for over twenty years. During that time I have performed thousands of massages. From the very beginning of my practice, I have always been interested in Chinese medicine (TCM), especially acupuncture. Over the years I have referred many of my patients for acupuncture treatment. I have known Jing and Dr. Gao for only a little while, but I have complete confidence in his acupuncture, having received many acupuncture treatments from him with positive results. I have and will continue to encourage my patients to him for acupuncture.
Sincerely
Olin Williams (Massage Therapist)
General Health
By Dr. Chad Jacobs (Chiropractor)
To Whom It May Concern:
I have had the pleasure of knowing Xuguang GAO and Jing for two years. I was introduced to them by a patient we share. My first personal experience with acupuncture was nothing less than amazing. I was dealing with a health concern that neither drugs, surgery, or other holistic care was helping. After 8 weeks of acupuncture with Xu Guang, my complaint was eliminated!
Since then I have referred many of my current patients to New Realm Acupuncture for health concerns that Chiropractic was unable to solve. In almost every case New Realm Acupuncture's expertise allowed the patient to experience better health.
I now get acupuncture on a regular basis to experience optimal health.
Thank you GAO & Jing!
Sincerely,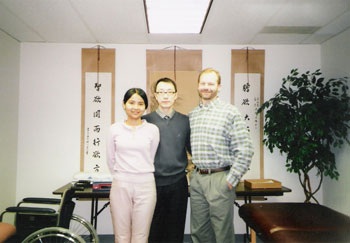 Dr. Chad Jacobs, Chiropractor