Shoulder Pain
I did not realize the effectiveness before I received acupuncture treatment in New Realm.
I had been to a chiropractor for 8 months and to Swedish massage for over 1 year, but it did not work for my shoulder pain.
Now, I am happy with amazing acupuncture result.
Thank you for everything!
Shoulder Pain
Having had acupuncture treatment before coming to New Realm, I thought I had a good idea what to expect. I was however very surprised at the very caring and friendly attention provided by both Xuguang and Jing. I am especially impressed by their level of communication to each patient, and how much time they take to explain you treatment and new methods of care, that I had been unfamiliar with. I have found their method to be pain free and very effective at controlling any symptoms I come in with. New Realm is where I will continue to come first, and I feel very fortunate to have found them.
Shoulder Pain
After trying everything for my sore neck, back and shoulder (chiropractic, pain pills, stretching, massages, yoga etc.). I finally decided to give acupuncture a try – what a difference! Going to New Realm has become my favorite part of the week. I go in feeling tense, tired and stressed-and leave relaxed, calm and energized! I have now started recommending acupuncture to family and friends and as soon as they get over the "needle phobia", I'm convinced they will find out what a fantastic treatment this is—
Thanks, New Realm, for making me feel like new again!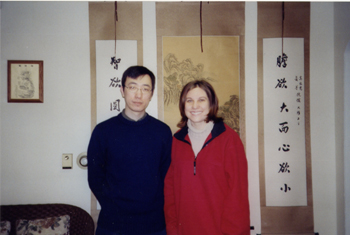 Shoulder Pain
My teeth were sore, my bite was off, and my pain made me very uncomfortable. My dentist said try an acupuncturist: "I treat only part of you; he will treat all of you".
My teeth, sinuses, back pain, shoulder pain, and any pain I am unable to think of has been relieved. New Realm Acupuncture has been an answer to many discomforts. They are caring and listening couple that want to get you onto the road of recovery.
Nagging pain, discomfort and stress can interrupt our daily life. Visit Dr. Gao and Jing, and you will be on the road to a better life.