Migraines
By Jackie Miller
My neurologist suggested acupuncture. I was getting migraine every for 1st year, then 2 to 3 times a week thereafter for the last 5 years. I came to New Realm in Nov. 2003 and I feel great. This is helping so much that I refer my clients to them. Thank you! You the best!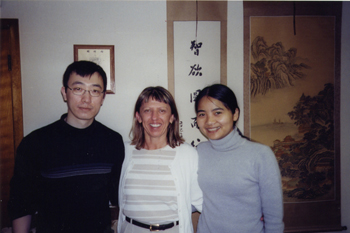 Migraines
By Ashley Williams
My boyfriend introduced me to the world of acupuncture and Dr. Gao's magical needles with passion from his experiences. I had been suffering from severe migraines for years and my health in general was very poor. The fear of needles was something I overcame by observing a session before I began my own treatment, asking many questions, and requesting the "table by the window." I'm so happy I've tried acupuncture with Dr. Gao that now I passionately tell all my friends about the wonderful benefits that await them.
Migraines
By Becky Kopelman
Dear Gao & Jing,
I want to thank you for all of the good care you have given to me since last November. Being new to acupuncture, you have been so patient and understanding of my needs, and I will never be able to thank you enough for reducing the frequency of my migraines. I look forward to staying in touch!
Many thanks,