General Health
The Best Thing that ever happened to me
Acupuncture
I am 57 years old with a history of physical injuries and poor health. Sinus infections have been a significant problem for the past 40 years. Despite frequent applications of irrigation, medication, and rest, I became bedridden ill four times a year.
New Realm Acupuncture Center came to my rescue on December 18, 2004. With the first treatment my sinuses cleared completely. I have not had a medication for a sinus infection through my customary worst season. Breathing improved as air passages cleared up. Sleeping was much better and now I have more energy. I have not had a day off due to illness since treatment started (I did play hooky once).
The care that I received at New Realm Acupuncture Center is proactive as well as remedial. I am able to do more things and I am even kind to my wife. I went shopping with her and had a good time. I am able to exercise five times per week and not die.
New Realm Acupuncture Center is the best thing that ever happened to me.
Dennis Huelsman (Psychologist)
General Health
By Olin Williams (Massage Therapist)
My name is Olin Williams. I have been a massage therapist for over twenty years. During that time I have performed thousands of massages. From the very beginning of my practice, I have always been interested in Chinese medicine (TCM), especially acupuncture. Over the years I have referred many of my patients for acupuncture treatment. I have known Jing and Dr. Gao for only a little while, but I have complete confidence in his acupuncture, having received many acupuncture treatments from him with positive results. I have and will continue to encourage my patients to him for acupuncture.
Sincerely
Olin Williams (Massage Therapist)
General Health
By Dr. Chad Jacobs (Chiropractor)
To Whom It May Concern:
I have had the pleasure of knowing Xuguang GAO and Jing for two years. I was introduced to them by a patient we share. My first personal experience with acupuncture was nothing less than amazing. I was dealing with a health concern that neither drugs, surgery, or other holistic care was helping. After 8 weeks of acupuncture with Xu Guang, my complaint was eliminated!
Since then I have referred many of my current patients to New Realm Acupuncture for health concerns that Chiropractic was unable to solve. In almost every case New Realm Acupuncture's expertise allowed the patient to experience better health.
I now get acupuncture on a regular basis to experience optimal health.
Thank you GAO & Jing!
Sincerely,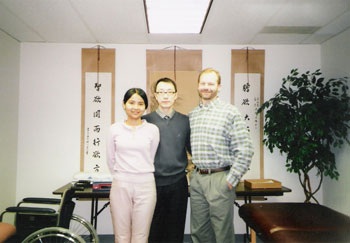 Dr. Chad Jacobs, Chiropractor
General Health
By Judy Bame
Patient to Patient
Welcome to your adventure in acupuncture.
We each have come to New Realm Acupuncture with a specific problem – pain from an accident or injury, limitations of our physical abilities, or a specific medical problem tha has not responded well to traditional American medicine.
Our expectations have been shaped by our culture's instant gratification … hungry? Solution: fast food. Headache? Solution: pop a pill.
Traditional Chinese Medicine treats not just the specific problem, but if permitted, will treat the entire person in ways that are nothing short of miraculous.
I came to New Realm Acupuncture using a cane. When I walked, it was slow, painful, and I was looking at the ground. I had to lift my head to see straight in front of me. I was taking a narcotic 4 times a day, blood pressure medicine, a muscle relaxant 4 times a day, and an anti – inflammatory. The side effects were many: mental fog, tiredness, lack of energy, inability to focus and still and always the PAIN.
I started with acupuncture 3 times a week, then twice a week, then weekly, then every three weeks.
It took time, sometimes it felt as if nothing was happening, but gradually the PAIN became pain, always became sometimes, then seldom, then only if I over stressed.
Today, less than a year later, I do not use a cane. I walk normally and even rapidly if I choose. I have good posture. I do not take a narcotic. I do not take blood pressure medicine or muscle relaxants. I take an anti-inflammatory only if I overstress. I am alert and I can focus. I can walk to the back of a store, I can skip for hours if I want and I can enjoy. I walk several miles a day. I garden. I crawl around in the dirt. I exercise. And, did I mention? I have been and continue to lose weight. By the way, I am not 25 or 30 years old. I am 65.
People who have not seen me for several months are amazed. They say I look younger. I smile and tell the truth. The benefits of acupuncture can be many and life changing.
I cannot thank New Realm Acupuncture, Dr. Gao, and my wonderful friend and guide for my acupuncture adventure, Jing enough.
I am sure that you are thinking I am finished with my treatments. I am not. Ongoing periodic treatments are not just maintenance but continue to provide unexpected benefits. My hair was starting to thin- now it is thick and full; the dark circles under my eyes that I have had since childhood – are starting to fade and are no longer visible in a photo.
Enjoy your adventure. Reap the benefits of acupuncture.
There are no words big and bold and rich enough to express my gratitude to New Realm Acupuncture, Dr. Gao, and my wonderful guide and friend, Dr. Jing Xiao.
General Health
By Ashley Williams
My boyfriend introduced me to the world of acupuncture and Dr. Gao's magical needles with passion from his experiences. I had been suffering from severe migraines for years and my health in general was very poor. The fear of needles was something I overcame by observing a session before I began my own treatment, asking many questions, and requesting the "table by the window." I'm so happy I've tried acupuncture with Dr. Gao that now I passionately tell all my friends about the wonderful benefits that await them.