Allergy
By Joann Codrea
I am very grateful to have found New Realm Acupuncture Center, GAO and Jing. I had been suffering from very painful sinusitis for several months that would not go away. As soon as the first needle was inserted, I felt relief. I kept coming back and as a result for the first time in my life I had no allergy symptoms this past spring. The acupuncture has helped with joint pain, headaches, back pain and stress for me. I have been going through a very stressful time and do not know how I would have succeeded it without the help of GAO and Jing. Acupuncture is very very good medicine.
I have chronic sinusitis and environmental and food allergies. Headache and sinus infections have been habitual for me. I have taken decongestants and antihistamines on a regular basis. Acupuncture has relieved the sinus pressure and puffiness in my face. I can't believe haven't had a headache for so long! I was referred to New Realm by my sister in law who was their patient. Dr. GAO and Jing operate in a sincere, caring manner. I am referring anyone who experiences pain to try this alternative approach to medicine.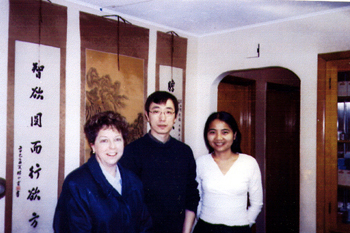 Allergy
By Eugene Given
Before I came to New Realm Acupuncture, I had a lot of troubles. My legs were Numb below my knees, the Caves of my legs were very stiff and hard, the bottom of my feet "tingled" like Pins and Needles all the time, and my Nose ran almost continuously each morning and during meals. I am unable to write "Right Handed" without holding the pencil with my left hand to stabilize my pencil.
After the first 5 visits, my legs have felt much better. The Pins and Needles in the bottom of my feet has reduced to about 50%, but more treatments are needed. I have more control over my legs now, the numbness has been reduced too but again, more treatments are needed. My legs are NOT as stiff and the caves are not as hard as they were.
My Nose "dripping" has been reduced by at least 50% and it's a good feeling.