Neck Pain
I have to admit that initially I was a bit skeptical about the effectiveness of acupuncture.
I was amazed at how much better I felt after just two treatments. Acupuncture was curing ailments that I had not intended to treat including neck and back pain. Gao and Jing have been very professional and informative.
Both my husband and father are now new patients at New Realm Acupuncture Center.
Neck Pain
I was referred to New Realm Acupuncture Center by my family doctor when I was having trouble with neck pain. I made an appointment with New Realm, while waiting to see the doctor I read this pamphlet on acupuncture that it could also help baldness. I was interested because I have been bald for years. I decided to ask the doctor to include this treatment for baldness along with the treatment of my neck pain. I'm glad I did because my neck pain is much better and I have hair coming in on my head. Thanks! New Realm
(One relative of Mr. Caudill did not even recognize him in the church! Because Mr. Caudill took off his wig which was on his head over 20 years, and looks different with his new growing hair).
Neck Pain
I have never liked needles or getting shots…
My aunt told me about New Realm Acupuncture Center and I thought okay I will try it. Now my neck pain is gone and I can sleep at night. I would and do recommend New Realm to my friend and family.
Neck Pain
Having had acupuncture treatment before coming to New Realm, I thought I had a good idea what to expect. I was however very surprised at the very caring and friendly attention provided by both Xuguang and Jing. I am especially impressed by their level of communication to each patient, and how much time they take to explain you treatment and new methods of care, that I had been unfamiliar with. I have found their method to be pain free and very effective at controlling any symptoms I come in with. New Realm is where I will continue to come first, and I feel very fortunate to have found them.
Neck Pain
I have had neck problems for almost two years. I spent a year in physical therapy and had no relief. The pain was so bad. I was told by a neurologist I should get Botox, but I didn't want to put poison in my body. I decided to try acupuncture. It has been a miracle for me. Almost immediately the tightness in my neck and shoulder muscles was gone. And the pain was gone immediately too. It has been a huge relief. The people here at new realm are professional and kind. I never feel pain or discomfort. It is awesome.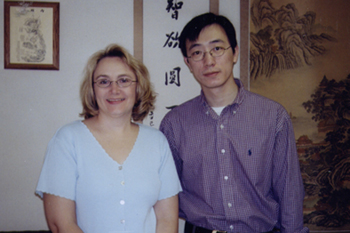 Neck Pain
After trying everything for my sore neck, back and shoulder (chiropractic, pain pills, stretching, massages, yoga etc.). I finally decided to give acupuncture a try – what a difference! Going to New Realm has become my favorite part of the week. I go in feeling tense, tired and stressed-and leave relaxed, calm and energized! I have now started recommending acupuncture to family and friends and as soon as they get over the "needle phobia", I'm convinced they will find out what a fantastic treatment this is— Thanks, New Realm, for making me feel like new again!